REPEAT PRESCRIPTIONS – Through CONNECTMED
We want to offer our enrolled patients the ability to order repeat prescriptions of LONG TERM medications online.
This service is through CONNECTMED (who provide the ONLINE APPOINTMENTS service also). So you need to have signed up to join ConnectMed before you can order repeats. Note that the whole process is secure & confidential to you & your medical team only.
Online Repeats provides convenience for you (can request 24/7 online) as well as a high level of safety in placing the request – because you will generally only be able to request medications from a list of long term medicines that you have been prescribed before. (This avoids confusion from issues such as "the white pills please"; "all my medicines please"; "doctor knows which cream I had before"; "it starts with…." etc.)
Please note that although we are happy for you to request regular medications online you may receive a message that you need to make an appointment first to see the doctor or nurse. This can be for several reasons, such as:
If you have not seen the doctor for the last 6 months you will usually be asked to make an appointment for most repeated or regular medications
Some medications need more intense & frequent monitoring & you may be expected to be seen for each script. Examples may include strong painkillers, many mental health medications, many anti-cancer drugs, antibiotics & so on.
A number of medical conditions need close monitoring & reassessments
WHEN YOU PLACE A REPEAT SCRIPT REQUEST:
Allow up to 2 working days for completion of all non-urgent prescription requests. Scripts ordered on Friday will become available from Tuesday the following week*
You will need to indicate whether you want to pick up the script from our reception, or from the pharmacy of your choice.
Notification: you will receive an email or a text either advising that the script is ready or that you need to make an appointment first
* SCRIPT NEEDED MORE URGENTLY?
We realise that sometimes scripts may be needed more urgently, for various reasons. You will need to phone us to arrange any scripts that you need in less than 2 working days. One of our staff will do their best to help you with your request. (Note that we still need to follow safe & responsible medical practice, & you may need to make an appointment. So the more time you can allow for requesting medications, the smaller chance of you being inconvenienced.)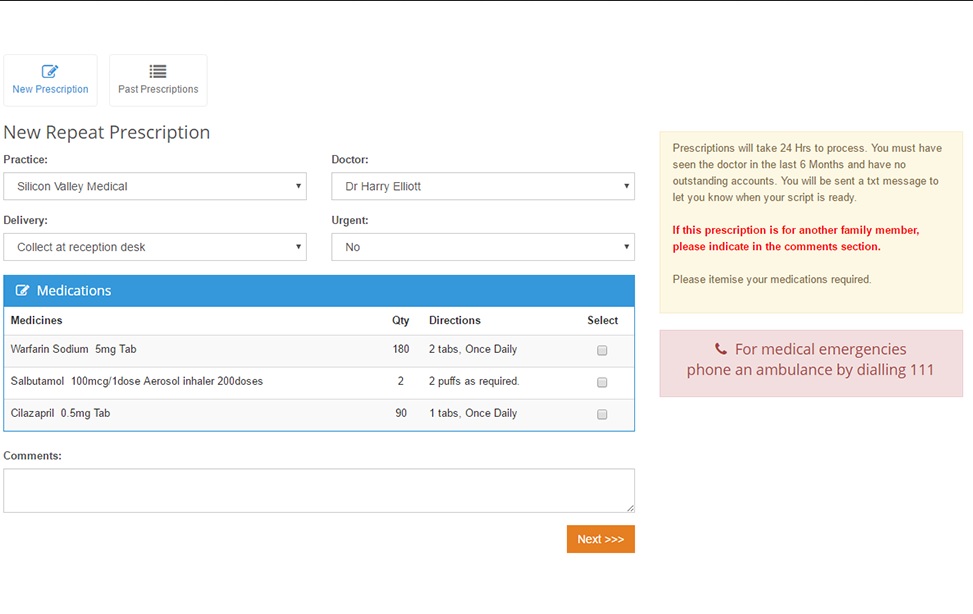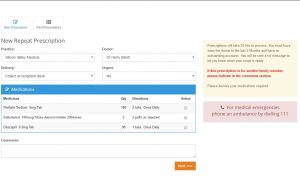 Screenshot of ConnectMed Repeat Prescription webpage (as illustration only)